Proud to be a B Corp™
​Creating better for our people, communities and environment
​
At Major Players, we believe that business should be used as a force for good, putting people, purpose and the planet alongside profit in our decision making. In 2022, we proudly became an accredited B Corporation™ joining an exclusive community aimed at redefining success in business.
Since our inception in 1993, we have always valued our people and championed our communities, alongside our desire to build a sustainable business. Now more than ever, the values that our business and people hold, perfectly align with B Corp's™ agenda, and this accreditation recognises our strong track record to date and provides a framework for us to cement ourselves as a force for good.
We're in exceptional company too, as one of 1400 business in the UK to be B Corp™ certified, along with some of our favourite brands including Patagonia, Innocent, Aesop, The Body Shop and Abel & Cole.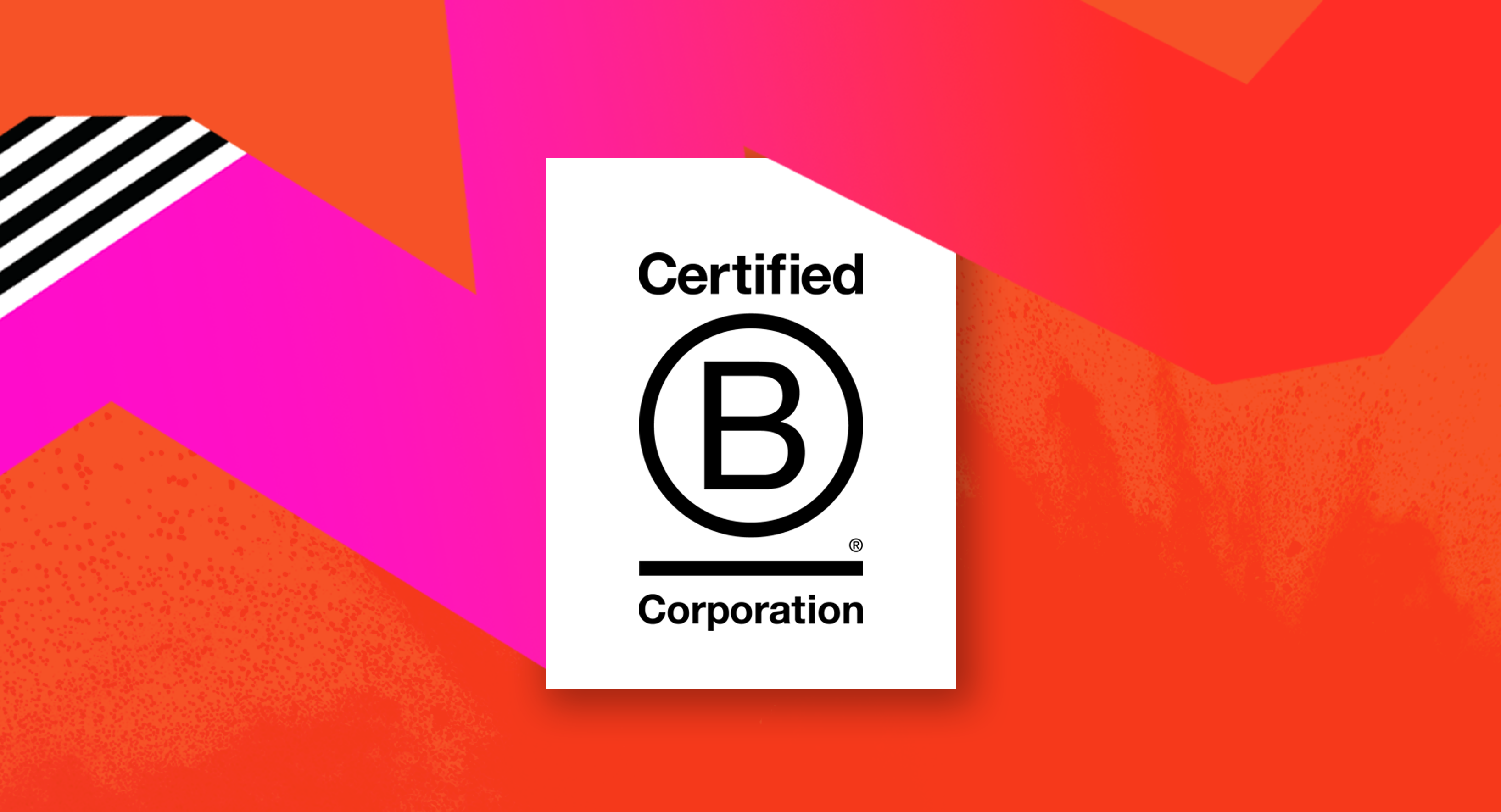 ​
As part of the accreditation, we've been through a rigorous and holistic evaluation across five impact areas, ensuring that we meet B Corp's™ high standards of verified performance, accountability and transparency.
​
What is B-Corp?
A Certified B Corporation is a company that has voluntarily met the highest standards for social and environmental performance. These standards are intentionally set high and are meant to recognize leading companies. The standards are developed independently and cover a company's impact in key areas, including Governance, Workers, Community, Environment, and Customers.
To get certified a company must meet stringent requirements, including completing a comprehensive assessment of their company's impacts on all stakeholders, and having their assessment verified by B Lab, the non-profit behind the B Corp certification. Since it's launch in the UK, over 150,000 companies have tried to be accredited but only 4% of businesses have been successful.
You can find out more about the B-Corp process here.
​
Being Better
We're passionate about leaving things better than when we started. This means our work must better our employees, community, planet and business – and below, we've outlined some of the things we do to ensure that we continue to champion progression.
​

​
It's cliché but we aren't anything without our people. They are the focal point of everything we do and stand for – and our commitments to them ensure that we provide them with the right tools, environment and infrastructure to bring their best selves to work.
Our four pillars of Work, Growth, Reward and Community have helped us to create a collaborative and engaging environment that encourages people to thrive. This includes providing our people with unlimited holidays to take whenever they want; a flexible benefits scheme (up to £1500 to spend on what works best for them); bespoke L&D programmes and career path mapping; competitive commission structures; companywide incentives (yearly trips away, monthly good vibes club and regular socials including our famous Pride Quiz!), and additional support through an industry leading EAP.
More importantly, we celebrate being authentically different- and strongly believing in being our true, authentic selves in the workplace, celebrating our differences. Our DE&I statement, as collaborated on by the business and our pioneering Inclusion Council, highlights that we believe that our people should be adding to our culture, not fitting into it; and through sharing our stories, using vulnerability as a strength, and embracing who we truly are, we can foster better connections and relationships with one another.
We strive to be a better employer for all our employees, each and every day, and our B Corp's™ accreditation ensures we continue to strive for the best.

​
​
​

​
Over the years we have nurtured long-lasting and impactful relationships with our clients, candidates, networks and partners – building a community that is passionate about the Creative Industries, and its progression.
As the UK's leading talent agency, we have a responsibility to ensure our communities (and beyond!) are represented and provided with opportunities to progress and grow. One of our aim's to positively impact diversity, equity, and inclusion within the industries that we service, making a more equitable society for all.
Part of this approach ensures we empower our own talent teams to understand the importance of DE&I, enabling all of us to thrive in our environments and communities, and living our 'authentically different' statement – we do this through ongoing education and development including companywide unconscious bias training, L&D programmes and our inspiring lunch and learns. As a result, these foundations allow us to partner more effectively, enabling impactful change within organisations in attracting, engaging, and retaining diverse talent.
We also recognise that we can't do it alone, and so we've built an eco-system that allows us to enhance our knowledge, capabilities and allow our clients access to greater expertise and more diverse talent pool.
We have invested £60,000 into DE&I initiatives since 2021, and have increased our investment for this year. Here are some of the initiatives that we have supported and curated over the years:
Creative Equals – We have supported the Creative Comeback programme for a number of years now, which supports females who have taken a career break for whatever reason get back into the world of work

Bloom – We have collaborated on multiple whitepapers including their pioneering Maternity Leave Playbook and industry changing Menofesto. We have also sponsored their Exchange programme, a reverse mentoring programme for C-Suite males.

20/20 Change – We participate in their 12 week 'I am Change' programme, in addition to providing co-working space, financial sponsorship for graduations and using our expertise at their careers fair
Our B Corp's™ status continues to outline our commitments to our communities, ensuring that we not only represent and work with the most progressive brands, agencies and talent in the Creative Industries – but work collectively to build an equitable future for all. ​

​
​
​

​
​We're committed to minimising the impact we have on our planet, ensuring that we work towards having a positive environmental impact. As part of our B Corp's™ commitments, we continually evaluate the impact we have through our operations, people and suppliers and are looking forward to producing our first impact report later on in 2023.
Last year, to help offset our carbon footprint, we introduced the Major Players Forever Forest, where every permanent placement we make we plant a tree. Since then, we've planted thousands of trees across the globe with our partner Ecologi – with an aim to plant 50,000 by 2028.
We continue to educate our people through environmental stewardship including on our ongoing recycling programmes, (virtual) office best practices and energy efficiency, and purchasing policies. We're currently working with our landlord on understanding how we can make changes to our workspace to improve efficiencies, in addition to becoming a paperless office within the next 3 years.
Our commitment to our planet is non-negotiable and our B Corp's™ status provides us with the ongoing framework to help reduce our environmental impact as much as possible.
​
​
​

​
We're committed to ensuring that Major Players continues to be a force for good, now and in the future. We've made a legally binding commitment to B Corp™ that we will continue to consider all of the aforementioned when making a decision, no matter how big or small; and now that we've achieved accreditation, it doesn't mean that we're going to rest on our laurels.
One of the initiatives we've put in place to be a better business, and to inform, influence and educate our communities, is through our Salary Survey's. At Major Players, we produce the UK's largest census on careers, salaries and workplace trends – analysing 8000 data sets, to enable businesses and individuals to benchmark against.
On the back of this data, in 2019, we launched our Earn Your Worth Campaign – an initiative supporting fair pay for all. As part of this initiative, we do not ask our candidates to divulge their salary history, in a bid to cut pay gaps and improve equity across the creative industries. We believe asking for salary history perpetuates gender, ethnicity, sexuality, and disability inequality; and allows for unconscious bias to take control.
We want to continue to use our business as a force for good, putting people, purpose and planet alongside profit, and below are some of the pledge's we've made to ensure we achieve this. Alongside our 'B-Keepers', we will be setting annual goals, and reporting on our progress.

​
As part of our commitments, we've set out a number of pledges that we will continue to work towards, including:

You can find out more about our B Corp™ and our overall B Impact Score here.